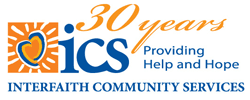 Emergency Financial Aid:
ICS provides financial assistance and short-term case management for individuals or families in emergency situations. The crisis may result from loss of job, illness or injury, or occur udring the waiting period for other forms of public assistance. The goal of our financial assistance program is to provide for acute basic needs that help clients in distress get back on their feet and take steps towards stability and independence.
Types of Assistance offered include:
* Rent and Mortgage
* Utilities
* Emergency Prescription medications
*Food and Gas Vouchers
ICS financial aid counselors work one-on-one with each client to identify barriers to sustainability and map goal plans for change. This personal counseling makes a difference in helping struggling individuals and families help themselves.
Office Hours: Monday - Friday 9:00AM to 4:00PM