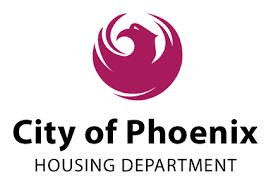 Download Pre- Application: https://www.phoenix.gov/housingsite/Documents/Pre-App_Sunnyslope.pdf
Sunnyslope Manor is a multifamily property
that serves seniors 62 or older, and persons with
disabilities. This includes ADA requirements with
reasonable accommodation. Residents that require
in-home support services such as Daily or Assisted
Living are welcome to obtain their own level of care
as needed.
This community is also subsidized by HUD with
rental cost based on household income. Residents
pay 30% of their adjusted annual income or 10%
of gross income for rent, whichever is greater.
The units accommodate no more than two people
per unit and include electric and water utilities.
Applications are accepted without regard to race,
color, sex, religion, national origin or handicap.
* One Bedroom Units
* No more than 2 persons in a 1-bedroom unit.
* Rent is 30% of adjusted monthly income.
* All utilities, except cable and telephone, are included in the rent.
* Mandatory $2 monthly fee applies for use of the laundry facility.
* Security Deposit is required at move-in, and is equal to 30% of monthly adjusted income.
Support Services:
* On site service coordinator to assist with medical appointments, business correspondence, finances, supplemental food programs, support services and community programs.
* Weekly transportation to grocery store.
Social Activities:
* Educational. musical and recreational events
* Bingo, crafts, book clubs, walking groups, exercise classes, holiday celebrations and birthday parties.
Pets:
* One Pet per admitted unit (Restrictions and deposit apply)
Requirements:
* Must meet federal income guidelines
* Pass credit, criminal and landlord checks
* Pay a security deposit upon move-in
* Pay for personal cable and telephone utilities
Location:
* Located north of Central Avenue between Dunlap and Northern, just minutes from North Mountain Preserve.
Features and Amenities:
* Full kitchens with full size refrigerators
* Linen Closets
* Wheelchair accessible
* Elevators
* Entry Intercom System
* Balconies or patios
* Entertainment room with kitchen
* Library and computer lab
* Barbecue plaza
*Billiards
* Covered Residential Parking
* Onsite Maintenance
* Secured Entryways
* Resident Aces Control Cards
* Secured Parking
Download SunnySlope Manor Brochure
:
https://www.phoenix.gov/housingsite/Documents/Sunnyslp_Mnr_brochure.pdf